Podcast: Play in new window | Download | Embed
We had the opportunity a couple months back to sit down with Producer Nicholas Tabarrok ("The Art of the Steal", "Defendor").
On location in Nicholas's LA office, he gives a dissertation on things he would have done differently had he started his career today, how he goes about packaging and financing films, and gets into some of the nitty gritty stuff we love to talk about at Craft Truck — all from the perspective of producing indie features.
Nicholas's latest film, which is out this weekend in Canada, "The Art of the Steal" stars Kurt Russell, Matt Dillon and Jay Baruchel.
On getting into the business:
It was actually, in retrospect [starting out as Production Accountant], not the best way in. Starting out on the physical side, and learning how to physically make a movie plays very little part in what I do now. Those skills, which I spent 10 years developing don't really come into play that often anymore.

If you're a real estate developer, if you're Donald Trump, you don't need to know how to mix cement and hammer a nail. What you need to know how to do is work with banks, and borrow money and work with municipalities. For me, I'm a real estate developer who started mixing nails, and building buildings.

I didn't deliberately go that route…. From what I know now I wouldn't have spent a day on set. I would have spent the very first moment of my career working in an office, working for a production company or studio or agency. I would have done the mail room route. And when I say the mail room route I mean it as a sort of short hand to mean that pathway working in an office. Because producing isn't what happens on set. Producing is what happens in an office long before that. Producing is about making phone calls, developing material; it's all about who can I get to read my script. Who can I call that's going to answer my phone that I can send this project over to.
Why I Choose Films:
Why I choose to do [the films I do], is absolutely 100% personal taste. I don't chase the market. This might be to my detriment, by the way, I'm not saying it's a good thing. I don't sort of look at the market and say, "what's working right now; oh, this is a hot thing, let me find that". And maybe I should. Maybe smarter producers do. But for me, it's all about personal taste. Did I love this script. Do I really, really like it. And, would I pay money to go see this. If I could see the trailer of this movie, would I pay $12 or $15 to go see it. If the answer is yes, then I'll try to make it. And if the answer is no, then you absolutely can not [make it].
Getting your project off the ground:
Before packaging, there's almost always development to be done. As good as a script is, as much as I love it, I feel that there is always a place to take it to make it better…. I usually have a script for a minimum of a year before I take it anywhere. From the point in which I do feel it is excellent, cast is the next step. That critical point is almost always cast that is meaningful, that is going to interest a financier, that is going to help trigger the film.
On getting cast: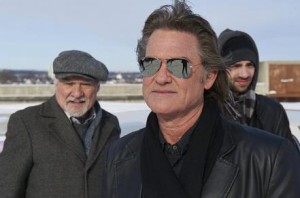 The very first time is through very traditional means. It's hiring a casting director, call the agent, make an offer; right through the front door. Very traditional method.
On financing your film:
There's never a formula. It's always piecemeal. At least in the indie world that I exist in. It's always a minimum of four or five, sometimes six or seven, different financial investors. It's a gap loan. It's a tax credit from one sometimes two different sources. It's a pre-sale. It's equity. Subsidy money. It's putting all these pieces together. The idea of going out there and talking to 30 parties in order to get 5 of them to step up. Twenty percent from this guy. Five percent over there. That's always been the same.
On dealing with a derailed production:
The really devastating bad news usually happens in prep. The train can be derailed in prep. It can't be derailed in shooting because you are too far into it. Yes, things can be bad, you can be over budget, your actor can be difficult but you're making the movie at that point. The movie IS going to be made. It's really prep and development, where it feels I've spent two or three years working on this, I've got 90% there, I've been spending 14 hours a day on this and it's not going to happen. And its all falling apart and all my time is wasted. That doesn't really happen once you're shooting. Once you're shooting you know you are going to get through it one way or another.
There's so much more that Nicholas had to offer. So go back up to the top of this post, press play, download it and listen to it later… and enjoy.
Leave a comment. Ask a question. What do you think?
Like Craft Truck:
Subscribe and get instant access to these three exclusive clips and stay connected:
Advice to young filmmakers by Dean Cundey
Choosing your tools by Gordon Willis
How to figure it out by Reed Morano