Rick Lazzarini started by designing the inner animatronics of the Queen Alien in Alien and was on the mechanical crew for Stan Winston. Now go behind the scenes with Rick at The Character Shop.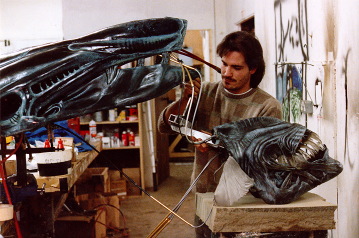 Remember that fight sequence with Ripley against the Alien when she's in the power loader… well Rick was the guy behind the aliens bite. From Snakes on a Plane to Alien v. Predator, Rick gives us the tour.
This was a crazy fun experience to be hanging with Rick. From Audrey 2 to chocking a chicken… enjoy this episode of Meet Your Makers.
Other posts you may enjoy:
KNB Effects with Greg Nicotero, The Walking Dead
Jimmy O'Connell, Marine Coordinator, All is lost
Walter Klassen, Props, Pacific Rim