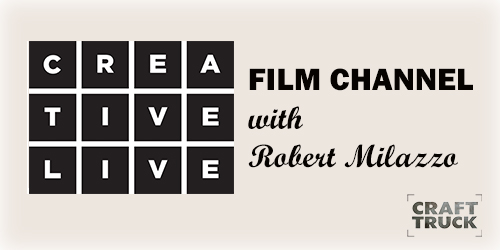 Welcome back to Business of Film, episode #67. This week we are joined by Robert Milazzo from Creative Live Film Channel.

This marks the start of our collaboration with Creative Live and we're exciting to have Robert on the show to share his passion for film and film education.
Robert started in the trenches as an assitant for David Mamet and Sydney Pollack so he knows what he's talking about.
And, as promised on the podcast, Rob has allowed us to share three pretty cool videos from their education courses here with you now:
Pick the Perfect Camera for Your Movie
Making Movies with Illeana Douglas: The Roulette Wheel of Insanity
Film Production: Who is a Producer and What Do They Do?
Get your FREE Videos & more now!
Also, here are some of the cool upcoming free classes you can check out:
Modern Film Composing with The Blair Brothers: This class airs on May 20 from 9:00am – 4:00pm PT. During the class, the Blair Brothers will be live-scoring a CreativeLive student film – to give a true insider's view to the film scoring process.
Crowdfunding Your Film with Emily Best: Hosted by Emily Best, CEO of the crowdfunding platform, Seed&Spark. This class will air on May 27 from 9:00am – 12:15pm PT and will teach you how to create a successful social fundraising strategy, as well as how to crowdsource gear and supplies on a tight budget.
We interviewed Emily Best, and you can check out her podcast here as well. She's got a lot of cool stuff to say about audience engagement so I definitely encourage you to check out her free class on Creative Live.
We hope you enjoy this edition. Please leave us a review on iTunes, it really helps, and we appreciate it. We'll even send you a digital muffin.

Also, if you have any comments or questions, just write'em below or find us on Twitter.