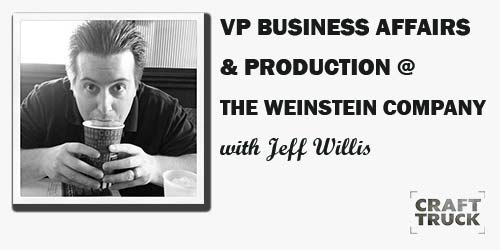 Welcome back to Business of Film, episode 58. We welcome Jeff Willis, Vice President Business Affairs & Production at the Weinstein Company to the show. We dive into some pretty cool topics on this episode including film distribution, talent deals, and copyright.

Want some insight into how to make talent deals that stick? This episode is for.
Curious about some distribution contract language that's important to look out for?
Jeff Willis masterfully crafts his answers to a variety of questions about the business. We don't nearly have enough time to get into everything I that wanted to. We'll certainly have him back on the show. In this episode we cover as many interesting topics as we can and leave the door open for many more.
If you have any questions, please hit us up at Twitter.
I also encourage you to follow Jeff on Twitter. As we get into the show, he has some pretty amazing threads on Twitter talking about the business side of film. You surely won't want to miss these.
We hope you enjoy this episode. Please leave us a review on iTunes, it really helps, and we appreciate it. We'll even send you a digital muffin.

Also, if you have any comments or questions, just write'em below or find us on Twitter.