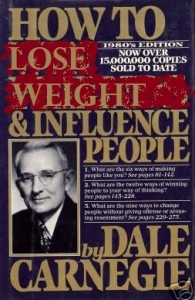 Clearly you are asking, what the heck does this have to do with filmmaking? Answer: Everything.
If you've never read Dale Carnegie's How to Win Friends & Influence People
(definitely a worthy ready), it speaks to the exact same market that weight loss plans do. And, to the exact same idea that the film business and Craft Truck loves to discuss.
What is this odd pairing of ideas…?
That film making, cinematography, editing, directing, producing, and all the other key creative elements of film are about aspiration.
Making a movie, being a crafts person in this, your chosen field or area of passion, is one of the most passionate aspirational industries there is.
And why do such weight loss and self-help titles take up so much space in our collective consciousness? Because they are the most aspirational elements of today.
There are two parts to the sales pitch:
1) The aspiration itself – "I want to look better."
2) The practical mechanics of actually getting there. The HOW? "How do I go about it?"
Together, the two parts make up most powerful marketing engine in the world: play to one's aspirations; deliver the mechanics on how to achieve them.
Reed Morano, in our Snacks series talks about figuring it out:
If you don't know how to do something but think you can figure it out, say you know how to do it. If you don't know how to do something and don't know how to figure it out, make sure you talk to someone before you get stuck in that scenario.

– Reed Morano
In essence, when you are in a a creative industry such as film, there is no substitute for just doing the work. And if you aren't sure what you are doing, figure it out as you go along.
In Reed's full interview she talks at length about getting started in this business. About how she'd help out on other people's films, volunteering her services where ever she could. The same theory applies for being a director or editor. If directing is your passion, the mechanics of directing will be learned in the process of doing. The mechanics of being a DP, like Reed, will be figured out in the process of shooting.
Filmmaking is a business of doing. There is no substitute for picking up a camera and shooting something. And there is great value in learning from others along the journey.
And that is what's great about this business. People love to share and talk about what they do. Everyone is so passionate about film. It's the ultimate trade craft. Ideas are passed, as in any trade, from mentors to apprentices. And to a large extent, that's what Craft Truck is all about. Talking with the "mentors" of the trade so that you can apply their knowledge to your work.
The answer to the question of how to lose weight and influence people is to just start doing what you want to do. The rest will come.
If you enjoyed this article, get email updates (it's free)